A CBC reporter from New Brunswick by the name of Bob Mersereau has written a book purporting to set out the top 100 Canadian albums of all time.   Obviously, the subject matter of such a book is in the "holy freakin' subjectivity, Batman" category.   I have no doubt that Mersereau's whole point is simply to jump start a debate – I would hope that no author of such a work would expect to have his words received as the definitive statement on the topic.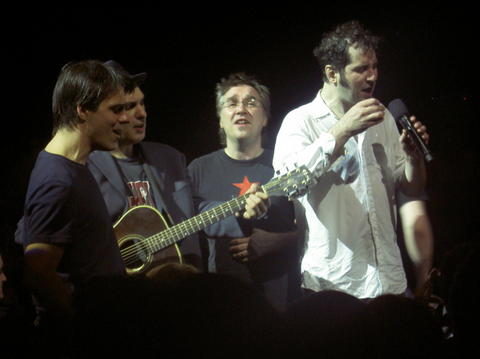 Rheostatics placed two albums in the top 100;  Whale Music came in at #19.  CBC radio listeners may remember that the Mother Corp. conducted an online survey some years back on the same subject matter.  If memory serves, Whale Music placed at the very top of that list as the Greatest Canadian Album Of All Time – but all reference to that poll seems to now be absent from the CBC website.   The inherently contradictory nature of these two results kind of reminds me of the two hot dog carts in Toronto's Nathan Phillips square that used to be side-by-each, with signs respectively proclaiming:  "World's Greatest Hot Dog" and "Best Hot Dog in the City."
For what it's worth, here are the top 20 albums from Mersereau's book:
Harvest, Neil Young (1972)
Blue, Joni Mitchell (1970)
After the Gold Rush, Neil Young (1970)
Music From Big Pink, the Band (1968)
Fully Completely, the Tragically Hip (1992)
Jagged Little Pill, Alanis Morissette (1995)
The Band, the Band (1969)
Funeral, Arcade Fire (2004)
Moving Pictures, Rush (1981)
American Woman, the Guess Who (1970)
Songs of Leonard Cohen, Leonard Cohen (1967)
Reckless, Bryan Adams (1984)
Five Days in July, Blue Rodeo (1993)
Twice Removed, Sloan (1994)
Up To Here, the Tragically Hip (1989)
Everybody Knows This is Nowhere, Neil Young with Crazy Horse (1969)
2112, Rush (1976)
Court and Spark, Joni Mitchell (1974)
Whale Music, Rheostatics (1992)
Acadie, Daniel Lanois (1989)
Arcade Fire?  Please.
Anyway, seeing the band's name in the news today has made me miss them.  I've set the iPod in my office to play their entire canon to me today as I struggle away with the mountain of paper on my desk.
As for missing the Rheostatics, here is what I wrote (in a Rheostatics discussion group at Yahoo!) the day after their final show at Massey Hall on March 30th, 2007:
My reaction last night was the same as described in [a fellow Rheostatics fan's] post – I found my eyes filling with tears everytime some beautiful passage floated out of Martin's guitar and I knew the joyous racket that was about to emerge – but I also knew it was the last time I'd be able to anticipate that particular bit. Those emotions were heightened a little bit because I was attending the show with my wife – who had to marry into Sproutdom – and who was enjoying some of these things with "new" ears (though she had been to a show or two in the past with me); I was feeling the joy of her relatively newfound appreciation of the music, and at the same time selfishly devouring every moment knowing that I couldn't explain everything it meant to me.

I first encountered the Rheos, like many of you, in the mid-80s when Ballad of Wendel Clark was their break-out piece; I was a huge Wendel fan and a huge fan of the song, but the Rheos didn't reach any kind of prominence in my consciousness, though I definitely haunted all the venues of mid 80s Toronto indie rock. My circle of friends had chosen to follow L'Etranger and (latterly) Andrew Cash. I liked the Vital Sines and Plastercene Replicas. By the early 90s, I had graduated from University and had moved to Windsor for law school. Numerous trips back and forth to the Big Smoke in my car led to repeated listenings of a tape my brother had given me of Melville. He had bought the CD because of the Edmund Fitzgerald cover on it, and in truth that's the track that was initially my goal during those early listenings. I thought Record Body Count was cool, but the rest of it was odd and foreign to my ears – I didn't immediately get it. After a few listenings, though, I found myself drawn to it and unable to get enough of it. Worse, I was becoming acutely aware of the lack of all things that made Rheos music great in everything else I was listening too. I was hooked.

On it went, through Whale Music – somewhere after that came out, my buddies and I started our own band and I introduced them to the band's music; it became part of our "thing" to do at least one Rheos cover every time we played. We spent many hours wasted (but not wasted) and marvelling at the beautiful liquid quality of that record and just generally revelling in the joy of it all.

By the time the mid-90s rolled around, I was back in Toronto and my band had the good fortune to make its own recording at Reaction Studios. We were thrilled and ecstatic to be making a record and we positively gorged ourselves on everything that went along with that experience, but the highlight – hands down – for all of us was when we convinced the engineer on the project to thread up the master reels from some of the Introducing Happiness sessions and we listened to that gorgeous music from stem to stern one night on the gigantic speakers in the control room. In the middle of making our own record, the biggest highlight for us was still hearing what the Rheostatics had done.

I remember one night during GSMW at the Ultrasound, all the Sprouts sitting cross-legged, shoulder to shoulder, on the floor at the front  of the stage in rapt attention as the waves of beauty rolled over us one after the other. The folks at the front of the club had all sat down to let the folks at the back see better. I was SO hooked on being a Sprout.

I was there thrilling for the guys the night they opened for the Hip at Maple Leaf Gardens. They looked a bit lost on that huge stage with all the Hip fans wondering what the hell they were on about, but they struggled against the problems and my buddy (the drummer from my band) and I both had huge smiles on our faces when they finished their set.  We could have left then and been happy.

A few years later, my own band was asked to do some original music for a low-budget (and ultimately awful) movie. I didn't have a clue how to begin the process. I went to a Rheos show one night at the Reverb, got there early enough to see the soundcheck and asked Dave Bidini if he had a few minutes to spare to give me any tips or hints he might have.  He was pleasant, he was helpful, he was supportive, he was encouraging. We went on to write what I think was probably the most beautiful piece of music we ever will. Dave shook my hand and wished me luck. I desperately wanted to ask him to sign my copy of "On a Cold Road", but I didn't want to seem like a starry-eyed fanboy.

The years went on and I moved out of town again, this time to the Hammer. In 2003, I attended something like five nights of the Fall Nationals, though I didn't have a car and couldn't have driven home at the end of the night anyway – a taxi from Queen St. to Hamilton is expensive, let me tell you, but I wasn't going to miss a single minute
of those nights if I could help it.
I saw the Rheos here in the Hammer a couple of times. I brought my new Hamilton friends to Toronto and introduced them to the band during the '04 Fall nationals. My own band all but broke up – four best friends moving in different directions, living in different cities, starting families, working at marriages and careers. Sad. Nobody other than us noticed – we never amounted to anything at all, though we did do one night at Lee's Palace on a bill with like five other bands.  It was a midweek night, but to me we were headlining Maple Leaf Gardens.

And then the news came late last year that the Rheostatics were breaking up. I was horrified, though I muttered to myself that I had seen it coming – some of Tim's songs on Night of the Shooting Stars sounded to me, when I first listened to them, as though he had already made his mind up then and it was the beginning of a long goodbye.

I of course had to have tickets to the show. As we travelled to the show, my wife asked me how I felt about what was about to happen, and I told her I felt weird because it was like I was travelling to watch a friend die.

I was there in row I on the right hand side, crying softly every now and then; my wife burst into tears from time to time too, because she could see how much it meant to me and how moved I was (and all of the other Sprouts too) to be there. I turned to her during the standing ovation for the boys after the first song (Saskatchewan), tears streaming down my cheeks as I smiled and gestured to all of the people in the seats and in the balconies. "It's beautiful!" I told her. We both thought Martin tried valiantly to sing his best, and felt his frustration at not being able to do so. We laughed with the boys as each revealed his "plans" for the future – Tim claimed that he had the rights to "Rheostatics, we hardly knew ye" (for the Casino circuit).  As the minutes 'til the end ticked away, I watched and felt glad as I noticed each of the boys really soaking in the moment in their own way. By the time the second Encore ended, with the guys singing Record Body Count about ten feet from where we were and tears still streaming
down my face, I clutched my wife's hand, told her I loved her and thanked her for coming with me.

We walked together into the cold of the March night, and I hoped everyone else enjoyed the show as much as I did.

Thank you, Rheostatics, for all your efforts over the years to give me the beauty, the memories, and the fun that you did. And thank you, fellow Sprouts for showing up in large enough numbers to make them keep doing it.

See you at Casino Rama for Tim's first show.