2013:The Year We (Re)Make Contact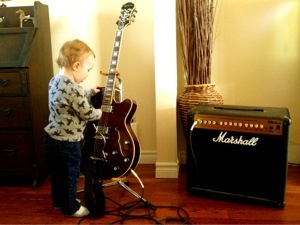 Am trying to make myself spend some more time on things that aren't work; you know, things that I enjoy and things that make life worth living.
One of those things is writing on this blog. I do like it, it makes me feel good.
Another one of those things is playing music. I hope to do more of that with this new guitar that I got for Christmas from Spouse. My whole outlook has gotten considerably more rockabilly since I opened it up – it's a hollow body archtop – I think I might grow long sideburns and a ducktail.
Anyway, been desperately trying to grab ten minutes here and there to practice between The Boy's naps and meals and diaper changes (he's been home from daycare during most of the holidays). It's hard to get into any serious effort to learn a song, or even a riff or a new technique in those quick stolen moments. But I vow to keep trying; I'm working on "Having an Average Weekend" by Shadowy Men From a Shadowy Planet at the moment.
Tonight's gem from The Boy: Spouse had made cookies and The Boy was aggressively sampling. At one point, he had learned to just liberate cookies from the counter and start eating, a development that was interdicted by Spouse, asking him, "Just how many more of those things are you going to eat, anyhow?" He thought for a few seconds and said confidently, "Three of them."