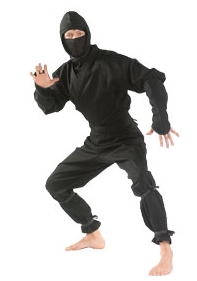 You may have noticed that this blog has fallen dormant over the last little while.  I am a ninja, and I am here to tell you about that.  Why has a ninja been sent to explain these things?  Fool! It is not the right time for you to ask questions.  When will that time be?  Sometime shortly after the next Atlanta Thrashers Stanley Cup parade will do fine.
The Junior, Lord and Master of the Juniorvanian Realm, has been a busy Lord and Master.  Not just "I need to fix the trailer tire" busy – as you have seen, he can find time to write while being that kind of busy – but Very Busy In A Work Related Way busy.  Also, you may have heard that there has come a child to Juniorvania.  So, Very Busy In A Work Related Way has also been augmented by Very Busy In An Emptying Diapers Way.  All of which is very busy indeed.
I would think it's fairly obvious now why a ninja has been sent to speak to you.  Yes, that's right, because of global warming.
I, the Ninja, will now bring the message to you.  It is in several parts, which I have not bothered to count yet, because I have been busy sneaking around instead.  You may not know this, but sneaking around is a major part of pretty much any ninja's day.  I didn't know, before I went to ninja school.  For some reason, I thought there would be a lot more singing and dancing, but I suppose I was mixed up and thinking of Broadway actors by mistake.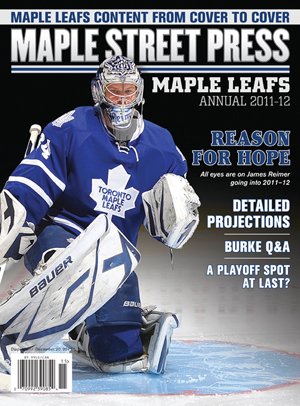 Anyway, here is the message:
There has NOT been an unfortunate tire repair-related explosion;  The Junior is alive and well;
The Junior does plan to return to regular – or what passes for "regular"around here, anyway – blogging, probably sometime in September;
In the meantime, The Junior has written a something, once again, for Maple Street Press' Maple Leafs Annual.  The book is available for pre-order online now ($9.99 plus shipping).  It will appear on newsstands throughout the GTA and in Chapters bookstores across Canada beginning August 30th.
It doesn't take a Ninja to figure out that 112 pages of content  with no ads, for less than ten bucks, is a pretty good deal.  As Alec Brownscombe (esteemed editor of the mag and Resident Padishah of Maple Leafs Hot Stove) pointed out, you were probably going to spend that ten bucks on a crappy calendar anyway.
Anyway, I gotta get back to skulking around invisibly, or I'll have to answer to my boss.  Ever had your work environment supervised by a Master Ninja?  Let me tell you, it's no day at the beach;  you can't get away with anything.   You can't ever tell when he's in the room.  At least I think my boss is a male.  Not sure, now come to think of it.
See ya!  You won't see me, though…