Imagine, if you will, Brian Burke sitting at his desk in the MLSE offices today.   Any GM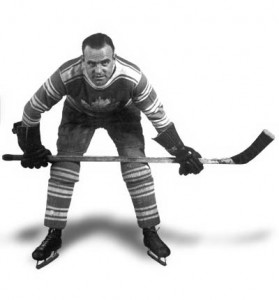 of the Leafs  is no doubt a busy man, but  Burkie's recently been a bit busier than most.  On top of the usual day to day stuff, he's still dealing with some of the remnants left behind by the previous occupant of the office:  emptying the crayons from the top drawer in the desk, tossing out the half-finished Word Jumbles and comic books scattered throughout the office and executive bathroom, and (most labour intensive of all) scrubbing  the yellow highlighter off the computer screen.
Imagine that as Burke is attending to these various tasks, shuffling things about on the managerial desk, he finds a dented and scratched old coffee can that's filled with a bunch of dust.  The magic marker/masking tape label has long ago faded and is now illegible.  What Burkie can't know is that the battered tin, a relic from days gone by, contains the ashes of a deceased player  – unceremoniously stored there years ago after the player's cremation by a skinflint owner determined to economize wherever possible .
Seeing the tin, Burke is puzzled. He feels sure he would have noticed the disfigured canister on his desk before, but he has not.  He picks it up to examine it, and as he does so, it tumbles from his hands to the floor.  A pile of dust spills on to the plush blue carpet; there is a flash of light and a puff of smoke.   Burke rubs his eyes in disbelief and stares at the apparition that now stands before him in the office.
Something very rare and incredible has happened:  Brian Burke is speechless.
Slightly less unusually, the ghost of a hockey player dead for more than 23 years has spontaneously appeared in a downtown Toronto office building wearing full equipment and a period uniform.
The ghost appears as he did on the night of March 17, 1934:  wearing a bright green sweater with a large shamrock emblazoned across the back where his trademark number 7 ordinarily appeared.  He is carrying a stick and wearing skates. He is pale and very obviously dead.
GHOST: Greetings, Mr. Burke.  I (dramatic pause) am…
BURKE: (recovering his senses)   Great, another stick-wielding zombie  in my office.  Look, I told Chris Chelios just a couple days ago, we're not looking for any undead players at this time..
GHOST: Silence!  Speak not, mortal.
BURKE: (rising from his chair) What the hell?  Listen pal, nobody talks to me like that, and certainly not in my office.