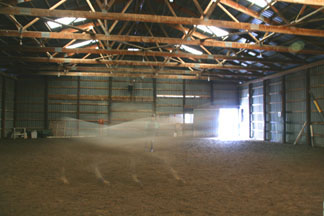 I saw a little blurb on television tonight about how the ongoing Writers Guild of America strike has taken a terrible toll on awards shows. Apparently, without writers to put together the brainless chatter that award presenters emit at a constant (and significant) rate, it is impossible to have an awards show, at least in the usual manner. Thus, the "People's Choice Awards" have done away with a live presentation show and are instead airing a show that announces the winners, who will give pre-taped acceptance speeches. As for those priceless red carpet moments and the mindless prattle, they are 86'ed.
I hope this strike continues for a thousand years.
Here is a picture of Spouse lunging her horse Ralph to help fill the empty spaces in your life, and to prove that I actually have been spending some time trying to get to know the ins and outs of my new D-SLR. Props to Doug and Mike for giving me a short course on lenses and basic photography principles in the comments section of my last post. Taking this shot was a challenge because the setting (the indoor riding arena at the barn where Ralphie boards) was dark – only two little bulbs hung from the high ceiling, way down at the other end of the building. Luckily, I was able to convince Spouse to keep the door open to the arena (visible, and highly over-exposed, at the bottom right of the photo) which meant I had a little natural light to work with. I then had to review my basics – bump up the ISO, open up the aperture (lower f-stop denominator) and try not to use the zoom. This shot was taken using a tripod on the aperture priority setting, which I had chosen initially just to see what kind of a shutter speed the camera suggested. I think the camera ended up choosing a .6 sec exposure, obviously not quick enough to "freeze" Ralphie as he cantered past the camera. I ended up liking the ghostly images of Ralph I got and took a few more "ghost" shots on purpose, concentrating more on compositional elements. This is one of the better shots. Full disclosure: I've fiddled a little bit with the brightness and saturation levels using an image editor – the initial image is a bit too dark to post to the Web in reduced form, and some alterations were, accordingly, necessary.