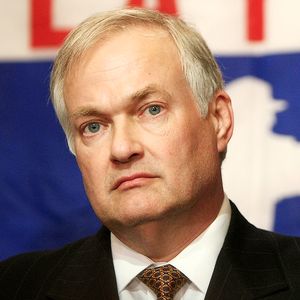 There was a report on TSN's website Sunday night that the National Hockey League Players' Association is preparing to offer Donald Fehr the top job with the union.  Those of you following along at home will recall that the last fellow who was hired to do this job, Paul Kelly, was comically and hilariously quite suddenly fired after less than two years on the job – for no particular reason that anyone could put their finger on.  Mr. Fehr, before he became a grumpy retired person, was the Executive Director of the Major League Baseball Players' Association from 1986 to 2009, and that just went swimmingly for everybody concerned.
What can we expect if Donald Fehr  becomes the next Executive Director of the NHLPA?  I fed the relevant data into the Digital Overlord (the Silicon-based lifeform in whose home Spouse and I reside, and at whose direction and behest we perform all functions in meatspace), let its hard drives, LEDs and assorted geegaws whirr away for an hour or two, and then retrieved the following scientifically guaranteed predictions concerning future events in the NHL:
April 1st, 2010 (morning):  ESPN reports Donald Fehr officially announced as new Executive Director of the NHLPA.   For two hours, National Hockey League President Gary Bettman refuses to believe that this announcement is anything but a cruel April Fool's joke, just like that time that Sports Illustrated published the story about Sidd Finch.  After lunch, Bill Daly arrives and shows Bettman a copy of the story confirming Fehr's hiring in the New York Times.  Realizing the story is true, Bettman pees a little on his fancy President chair, hops down from it and runs into the Executive Washroom.  He refuses to come out of the bathroom for six hours.  League staff swear that, through the heating vents, they can hear someone sobbing and cursing Eric Lindros' name.
April 1st, 2010 (afternoon): Fehr gives an interview to Stephen Brunt of the Globe and Mail.  Brunt asks Fehr what reason he had for changing his mind about retirement.  Fehr says, "I'm only 62 years old;  I wasn't ready to spend my time  playing golf in Vegas with a bunch of ninety-year old men."
April 2nd, 2010: Fehr takes a congratulatory call from recently-elected Atlanta Thrashers Player Representative Chris Chelios, who inquires about getting together for a round after the NHL Awards.  For the first time, Fehr wonders if he's made a horrible mistake.
September 1st, 2010: At the end of his first month in office, Fehr declares himself "up to speed" on the business of hockey and calls a press conference.   He publicly denounces the league in general and Commissioner Bettman in particular for wrongfully depriving players of their rightful share of vast sums of money earned by the league from the U.S. Network television deal.  "Obviously," Fehr is quoted as saying, "that pittance that Versus is paying the league can't be the only national TV revenue coming in from all of America.  I mean, come on;  Versus isn't even a real network." He goes on to point out that NHL games also appear on NBC, and says the players don't seem to be getting their share of any NBC rights money, saying.  "It's NBC;  they've gotta be paying the league something, right?"  Entire room bursts into laughter;  Fehr looks confused and storms out.
September 2, 2010: Previously cozy relationship between the NHLPA and NHL is torn asunder.   Bettman is deeply offended by the allegations of deceit and will not return Fehr's phone calls.  As a result, a work stoppage ensues.  For six continuous weeks, Fehr's own staff work daily to convince him that the Versus revenues really are the only U.S. TV money.  When he finally comes to the realization that this is true, a further six weeks of work stoppage follow merely because Fehr does not want to apologize to Bettman.  "After all," he confides to an assistant, "if I say I'm sorry, I'm just going to have to sit next to that fucking guy at the All-Star Game."
October 16th, 2010: Plans to accuse NHL owners of colluding with one another to artificially depress the free agency market are scrapped when Fehr – who has still never even been to a hockey game – learns that in the summer of 2009, the Montreal Canadiens agreed to pay 35 year-old defenceman Jaroslav Spacek $3.8 million dollars a year, for each of the next three years, to not score any points for their team.  Fehr, who knows so little about hockey that he calls goalies "backcatchers", immediately calls Bob Gainey's number.  When Gainey answers, Fehr simply says, "You're a fucking idiot," and hangs up.  Coincidentally and unbeknownst to Fehr, this is the 215th consecutive day on which Gainey has received such a phone call.
November 1st, 2010: NHLPA Player reps, concerned about previous incidents in which union leadership surreptitiously read their personal correspondence, conduct a secret surprise inspection of Fehr's office and computer.  They are relieved to find that Fehr has not had access to any player email.  They are, however, disturbed to learn that he has apparently been spending seven to ten hours a day on Monster.com, Careerbuilder.com and Craigslist.  Worse still, they find a partially completed job application in his name that appears to come from the Starbucks across the street.
December 22nd, 2010: Fehr is photographed sitting on the lap of a shopping mall Santa Claus;  bystanders swear that he was overheard asking Santa for an important job in  a more popular and widely known sport, like maybe the B.A.S.S. Pro Tour, the Pro Bowler's Association or the National Pinochle Tour.
March 1st, 2011: Concerns that the NHL's new "head shot" rules would be difficult for officials to enforce prove unfounded when it is announced that the cranial circumference of all NHL players has increased by 50%.  Players' heads become impossible to miss, obscuring many fans' view of the video scoreboard above centre ice, and all body contact is eliminated from the game entirely.  Fehr declares the NHL's substance abuse policies a success, excuses himself from the press conference and goes to work at his other job: selling popcorn at the Cineplex Odeon.
March 15th, 2011, 11:39 p.m: Fehr is invited to attend a hastily-called meeting in Rome, New York that he is told is intended to celebrate the 1st anniversary of his hiring.  He points out to one of the fellows in the room – a guy that he hasn't seen around the office before, but who looks suspiciously like Eric Lindros – that he hasn't worked for the PA for a year yet.  Other players keep referring to this guy as "Brutus" and laughing.  A group of player reps approach him from behind and begin patting him – perhaps a bit too vigorously – on the back.  Fehr wakes up in the emergency room with several knives protruding from his back and a crumpled pink slip in his hand.  The fellow they kept calling "Brutus" is having a conversation with one of the E.R. doctors and is insisting that since Obamacare got passed, there must be a death panel that could "take care" of the guy he brought in.  Doctors refuse to comply with the man's request, but do insist that Fehr get off the gurney and work his scheduled evening shift emptying bed pans in the geriatric ward.
March 16th, 2011: Fehr attempts to send his letter of official resignation to interim executive director Eric Lindros, but learns that Lindros has himself been deposed by a heretofore unknown faction of Sandanista guerillas within the NHLPA.  That faction was replaced an hour later by Fidel Castro, who lasted fifteen minutes until he was himself replaced by a particularly militant Bobby Orr-emblazoned thermos that had been stored in an office closet since 1971.