I bought the Toronto Maple Leafs today. No, really, and although the Maple Leafs I own will never win the Stanley Cup, I'm just as happy as can be. Just to fit in with the previous owners,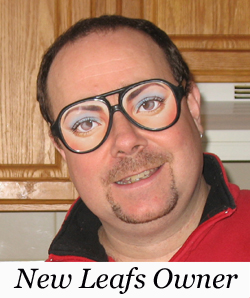 I told the first guy I met on the street today, "you're fired." I also raised the price of beer – formerly free in the paradise that is Juniorvania – to $18 a pop – and you'll be lining up to use the bathroom at my place from now on, too. Did I miss anything? Oh yeah, I promptly forgot everything I ever knew about hockey and have instead begun following the Market quotes rather obsessively.
Okay, seriously, what's this all about?
Some of the regulars over at Pension Plan Puppets are having some good-natured fun at the expense of fans of other NHL teams. There's a new reference site about hockey being set up called, oddly enough, hockeyreference.com. That site has a page for every NHL player, team and coach. Evidently, the good people at hockeyreference.com would like to bank a little coin to pay for all the server space being devoted to such arcana instead of hosting Second Life netizens; accordingly, they have set things up to allow regular folk like you and me to sponsor the page of their choice. Sponsorship entitles the rights holder to inscribe upon the page a caption for all to behold, as well as to insert a link of the sponsor's choice.
Interested fans of many teams are scooping up the rights to their various principal nemesises (can that word be plural?) and posting appropriately scathing tributes to their targets. Thus, Caps fans have taken care of Jaromir Jagr; choosing not to overthink the prank, the not-so-huge fans of their former captain at Japer's Rink (a Leaf fan's home away from home while cheering on the Caps) have selected a heckle of a traditional bent, pointing out that Jagr wears women's clothing. They happen to have a link to certain photographic evidence proving the claim (on at least one occasion) to be indisputably true.
Leaf fans have secured the rights to the pages devoted to certain of our own historic arch-rivals, with extensively comedic results: thus Daniel Alfredsson, Wayne Gretzky, and Chris Neil have been skewered. Toronto supporters have also turned some of their anger about the team inward and have given some of the Leaf players the same treatment: see for example Vesa Toskala, Bryan McCabe and – inevitably – Jiri Tlusty.
I chipped in a few bucks on my own behalf and in honour of dear old Dad (hey, Father's Day is coming up and a guy never knows if he's going to remember to get a card) to ensure that the Montreal Canadiens and Ottawa Senators franchise pages are under the control of Toronto sympathizers. As I understand it, a suitably stinging caption is still being crafted at this time. I will update with linkies when the deed is done and the prank is posted.
I was of course personally interested in the Wendel Clark page, but it had been snapped up by Sean at Down Goes Brown. I know Sean will take good care of the page; anybody who names their blog in honour of a hockey fight featuring Sylvain Lefebvre is okay by me. (I believe "Down Goes Brown" is a reference to an incident in a game that I actually attended, a December 1992 dust-up between Sylvain Lefebvre and Rob Brown of the Chicago Blackhawks. An overhand right from the usually mild-mannered Lefebvre clobbered Brown and sent him crumpling to the ice, causing Joe Bowen to exclaim – repeatedly – the title phrase.) Since I couldn't get Wendel, I decided that I would buy the whole damn 1992-1993 team; as I've written before, that team gave me so much joy watching their run to the Conference Finals against the Kings.