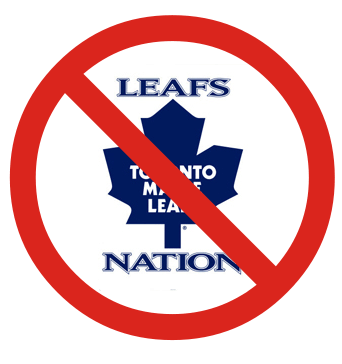 I'm going to go ahead and say it – fuck "Leafs Nation".  Strange words to hear from a lifelong Leafs fan and recent contributor to the Maple Leafs Annual?  Maybe.  Hear me out.
Kim Jorn, Godd Till and mf37, the Three Amigos of the Barilkosphere, have combined their considerable forces to launch a new blog called Zambonic Youth.  Armed with a somewhat confusing but nevetheless distinctly unsettling manifesto that takes time out from hockey issues to warn against the coming cyptozoological war, the electronic Zambonic goes sardonic on the Leafs Abomination lexiconic – yo they be riffin' supersonic' like the London Philharmonic¹ – on the recent Random House offering by Dave Feschuk and Michael Grange, Leafs Abomination.
Mf37 concludes his review thusly:
One last message: whatever you do, don't buy this book.

Seriously.

One of the authors' central arguments about the Leafs is that fans have supported crap for far too long and that support is partially responsible for perpetuating a four-decade string of mediocrity.

If you shovel $20 at product like this, there's a real danger that it's only going to encourage more publishers to hire basketball writers to pen a half-baked book about your favourite hockey team. And no matter what franchise you're a fan of (and there are plenty of them that have gone 30+ years without a Cup to chose from) no good can come from that.
I believe the appropriate phrase would be "hoist by their own petard."  Nicely played.
I have to say that this book does seem to be the lexical equivalent of a Howard Berger blog post, squarely raising the issue of why it wasn't released in November, when things matter.  Others have rightly pointed out the hackneyed resort to cheap tricks like the upside down Leaf on the cover, the supposed selling price of $19.67, the guy on the cover with the bag on his head and so on.  I don't know whether Feschuk and/or Grange were involved in making those design choices, but it doesn't sound as though these features of the book's exterior are thematically inconsistent with the actual content of the tome.  At the very least, Feschuk and Grange would seem by inference to be implicated as being complicit in this lazy and blatantly obvious resort to familiar cliches.  The whole idea (of both cover and book), presumably, is  to attempt inflame those who retain the capacity to be astonished by such nakedly calculated shit-disturbing and thereby gain publicity for the publication (remember the Maclean's issue purportedly dedicated to exploring "Why the Leafs Stink"?  Bet that issue, sporting the Leaf-bashing cover story sold a shitload of copies too.)   All in all, shame on Messrs. Feschuk and Grange for falling victim to the sporting world's equivalent of populist demagoguery.
For my own part, I am going to take the opportunity presented by the release of this book and the consequent recent focus on these tired memes to make a declaration.  I am going to formally and officially express my discomfort with the term "Leafs Nation", a (hilariously witty, no doubt) perversion of which phrase  serves as the title for the Feschuk/Grange offering.