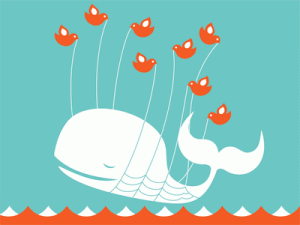 Cam Cole wrote a ridiculous article today about social media and the National Hockey League trade deadline.
Cole mentions that during the intense discussions surrounding today's NHL trade deadline, many people availed themselves of the opportunity to have a little fun;  some folk decided to create Twitter accounts that appeared to emanate from real hockey media personalities.  Down Goes Brown decided to spice up a dull morning by using the new media to organize the 21st century (ahem) grownup equivalent of a class clown prank.  Following the lead of an old high school classic, the  "co-ordinated, math-class-derailing pre-arranged 11:45 coughing fit", DGB suggested that at 12:50, everyone should send the Toronto Maple Leafs' Joffrey Lupul (@JLupul) a tweet that appeared to refer to his "trade" to Long Island (that trade being, of course, an entirely fictitious event which had not occurred).  The tweets were sent en masse.  Lupul appears to have played along with the gag, tweeting shortly afterwards that he was "Long Island bound. So I hear…"
I didn't see it, but apparently the "Lupul trade" was, for a time, being reported by some as an actual event.  I saw some Tweets indicating that it was briefly posted on the Philadelphia Flyers' website, and – according to Cole's article – Gord Miller and TSN briefly fell for it too, relaying the information to unsuspecting viewers watching their Trade Deadline Special.
At first, Cole's article reads like a more or less good-natured look at these virtual hijinks in the social context within which they occurred.  The first two thirds of the article, at times, read a bit like a barely concealed admiration for the inherent hunour in the Lupul prank in particular:
Fake Twitter accounts impersonating hockey reporters moved April Fool's Day ahead by a month and pranked the National Hockey League's massively over-hyped trade deadline, briefly duping both those trying so feverishly to be first with the news and those hungering to get it — and, in the process, greatly enlivening a day of sparse activity and mostly minor deals.
Got it?  The Twitterers "pranked" the NHL and lampooned the "over-hyped" deadline, "greatly enlivening" the day.  Pretty good stuff, huh?
In the end, though, Cole ends up clucking his tongue at those involved like a disapproving schoolmaster:
The actual Bob McKenzie (TSNBobMcKenzie) has 114,000 followers. BMcKenzieTSN and TSN—BobMcKenzie? They have fooled 957 and 549 gullible followers, respectively, by attaching McKenzie's photo to their Twitter accounts, and yes, there ought to be a law against that.

But there isn't. So they are free to live in their parents' basements, plotting to bring the world to its knees with their cleverness, nibbling away at the social network's credibility — as if it cared — one little white lie at a time.
Really?  Is there really a need for either (a) another "blogger in the basement" joke or (b) a law prohibiting the creation of  spoof Twitter accounts?
I don't wish to position myself as a defender of mendacity, but if Mr. Cole and the rest of the world can't stomach the thought of people lying to one another over the Internet, I sincerely hope he never has occasion to be made aware of Internet dating sites.  Also, he would be well advised to avoid taking up fishing for sport, as the ability to spin a tall tale, though far from rare, is very much a quality to be nurtured and developed among anglers.  Maybe it would be best to stay out of the "fiction" section of the library, and the cinema too, just to be safe.
Now, I'm not here to tell you that I understand why some people would get their jollies concocting fake trades to whirl around the Internet, and I'm not suggesting that DGB's little prank is the comic equivalent of Newton's contribution to calculus;  I can tell you, however, that people discussing things amongst each other, having fun, and taking the piss out of one another is probably nothing to be terribly alarmed about.  It's been happening wherever people have gathered socially for thousands of years.  I wouldn't be a bit surprised to learn that somewhere, deep in an unexplored cave in northern Europe, there is a cave painting that is now difficult to comprehend, but which – back on the day it was first splattered on the rock – was the functional equivalent of a Star Wars Kid mashup.
My point is not that I think "fake Twitter accounts" are desirable and necessary, but rather that social media platforms represent a meeting place, not just another broadcast medium.  Twitter is a conversation;  the content may be partly based in the news, but it is wholly about entertainment.  Journalists who choose to rely on it and rebroadcast it unfiltered and without any value (such as fact-checking) added – in my opinion – do their readers or viewers a disservice.
Lastly, the final point about "nibbling away at the social network's credibility" is so astonishing I honestly don't know what the hell he's talking about.  It's Twitter; it HAS NO CREDIBILITY in the first place.
The logic is so confused in this article, it's honestly difficult to follow Cole's reasoning as to why he feels that the legislative process needs to be invoked.  It's very hard, however, to escape the general feeling that the Cam Cole No Pissing Around on Twitter Law is necessary solely to protect lazy journalists who are in such a breakneck rush to report the news that they're basically just reading their Twitter feed directly into the camera without doing some basic fact-checking first.
Evidently, the Damien Cox example didn't take. You remember the Toronto Star (now also Sportsnet) columnist who broke news of former coach Pat Burns's death in September, two months before it happened, because of an honest mistake? Oh, the copycats who leaped on the story that day and spread it without making sure it was true were duly apologetic at the time, and a little cautious for a while afterward, but that was more than five months ago.

…

All kinds of highly respected, earnest reporters were duped, if only for a matter of minutes, and a lot of effort was wasted trying to chase down the truth, revealing the mean-spirited side of the pranks, which all had one thing in common: none originated with mainstream media, but rather with those trying to make the MSM chase its own tail.
Do you follow that?  Damien Cox made an "honest mistake" when he wrongly reported Pat Burns' death, but "highly respected" and "earnest reporters" were "duped" when they failed to do the minimal checks necessary to make sure @ForREELZESPN_LeBrun – the account reporting the trade of a puck moving defenceman for a bag of doughnuts – is actually related to the hockey journalist in question.  To review: Damien Cox makes an honest mistake, those engaged in that line of work fail to learn from it, and – by breathlessly reporting gossip overheard in a virtual barroom as fact – are victims of  "mean-spirited" and socially destructive users of the Internet.  Heads I win, tails you lose.
The part I have a very difficult time understanding is how Cole misses the point.  He actually points out, in the middle portion of the article, how easy it is in most cases to spot a fake Gord Miller Twitter account merely by reading the contents of the page on which the tweets appear (Gord Miller's Twitter account has probably been around for more than two hours, likely contains more than eight tweets, and it's highly likely the real Gord Miller has more than 52 followers).  In other words, Cole identifies the ease with which these "frauds" can be discovered, but swerves right past the legitimate target – so-called reporters relying on random stuff posted on the Internet for Christ's sake as accurate – and instead delivers a confusing, poorly reasoned and somewhat startling conclusion generally indicting humans for just fucking around.
Good luck putting a stop to that.